Classic Figure Drawing Class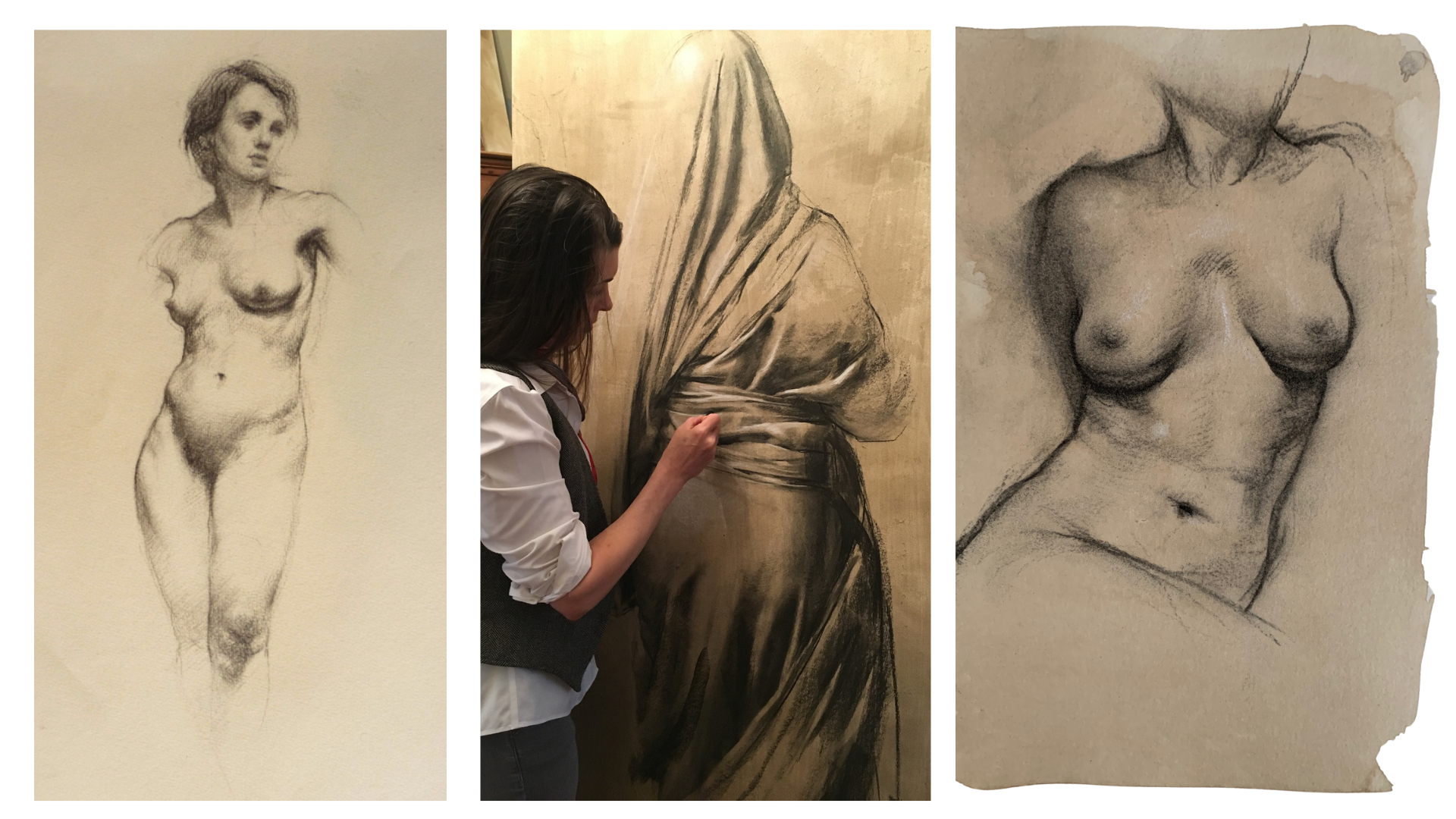 Highlander Mountain House hosts its first Artist in Residence with renowned classical realist, Jill P. Hooper. Jill will be in residence at HMH from Monday, April 5–Friday, April 16. During her stay, Jill will lead a Classical Figure Drawing class at The Bascom's Center for Visual Arts, live paint in The Ruffed Grouse, and interact with guests.
The figure breathes with expression and vitality when drawn from life. Jill will offer the fundamentals of classical techniques using charcoal, chalk, and toned paper (You will tone paper with ink and/or coffee.) There will be an emphasis on shadow shapes and the usefulness of Leonardo Da Vinci's canon sfumato. All proceeds will go to the Bascom courtesy of Highlander Mountain House and Jill P. Hooper. Materials provided.
Painter Jill Hooper is from North Carolina & New York, where she was born in 1970. Hooper showed a fondness for drawing and draftsmanship at a young age. She worked under D. Jeffrey Mims for an extended period in North Carolina as well as in Florence, Italy, studying still life, portraiture, and the figure. She also studied at Universite de Haute Bretagne in Rennes, France where she learned printmaking. Hooper studied portraiture with a focus on the sight-size traditions with Charles Cecil in Florence. In 2006, she participated in the apprentice program under Benjamin Long VI at the League of the Carolinas, as well as assisted him with the Crossnore fresco in the mountains of North Carolina.
Hooper's exposure to classical realism and to the academic figurative style transformed her work and persona. As her training became her own singular task, she traveled to the deserts of Utah and the museums of London and Vienna, drawing and painting from life and Old Master examples.
Hooper's work has exhibited in France, England, and throughout the southeastern United States. She is permanently collected in three museums, including the Gibbes Museum of Art in Charleston where she is the youngest living artist to ever be collected. Her work can also be found in numerous private collections. In 2007, her self-portrait Pugnis et Calcibus was in the BP portrait exhibit touring through the United Kingdom and hung in London's National Portrait Gallery. Hooper presented a show of new work at the Greenville County Museum of Art in 2010 and had a solo exhibition at the Gibbes Museum of Art in 2012, as well as, a group exhibition in 2019 with her dear friend and mentor Ben Long and his teacher Frank Mason.

Jill lives and works between downtown Charleston and London, where she is annually the artist-in-residence at London Fine Art Studios. For seven years, she has been teaching a Fundamental Drawing Course at the American College of the Building Arts.
Venue Information - The Bascom: Adult Studio B (Trail Level)
Located on the Trail Level (lower level) of The Bascom's main building, Adult Studio B hosts a variety of classes, workshops, and more. Entrance is either through the front door of the main level of the building and down the stairs or from the trail entrance on the lower level of the backside of the main building.
Sign Up for Our Newsletter

Visit: 323 Franklin Road
Highlands, NC 28741 (Map It)
Call: 828-526-4949 (Main)
828-787-2892 (Ceramics Studio)